Wien-Donaustadt ist der jüngste, flächenmäßig jedoch größte Wiener Gemeindebezirk und zählt zu einem der wichtigsten Stadterweiterungsgebiete der Stadt. Wo vor 100 Jahren noch Gemüse- und Getreidefelder zu finden waren, stehen heute moderne Wohn- und Bürogebäude. In keinem anderen Bezirk findet sich daher ein so enges Nebeneinander von Tradition und Moderne. Mit der Alten Donau und der Donauinsel besitzt der Bezirk eines der größten Naherholungsgebiete Europas inmitten einer Millionenstadt. Der Historiker und Fremdenführer Karl Zillinger dokumentiert mit rund 200 bisher überwiegend unveröffentlichten Fotografien, Luftbildern, Grußkarten und Plänen aus dem Archiv des Bezirksmuseums Donaustadt den Alltag der Bewohner des 22. Bezirkes sowie die spannenden Veränderungen, die sich in der Donaustadt in den letzten 100 Jahren vollzogen haben. Dieser eindrucksvolle Bildband öffnet ein Fenster in die Vergangenheit des Bezirkes und lädt ein zum Erinnern, Neu- und Wiederentdecken. (Sutton Verlag)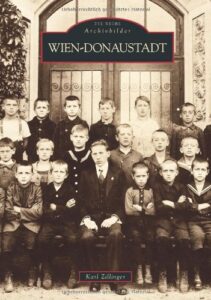 This impressive illustrated book opens a window into the past of the district and invites you to remember, discover and rediscover.
"Vienna-Donaustadt is the youngest, but largest Viennese district and one of the most important city expansion zones. Where you could still see vegetable and grain fields 100 years ago, there are now modern residential and office buildings. In no other district you find tradition and modernity so close to each other. With the Old Danube and the Danube Island, the district also offers one of the biggest European recreational areas in the middle of a metropolis.
The historian and certified Austria Guide Karl Zillinger documents, with about 200 mostly unpublished photographs, aerial images, greeting cards and plans from the archives of the district museum in Donaustadt, the daily lives of the inhabitants of the 22nd district as well as the fascinating changes which Donaustadt has undergone in the last 100 years."