Das Leben auf den Straßen Wiens zwischen 1890 und 1960 war geprägt von Umzügen, Aufmärschen, Paraden und einer Vielzahl von weiteren Attraktionen. Die Bevölkerung folgte dem Ruf der großen und kleinen Sensationen mit Begeisterung. Mit rund 220 bisher überwiegend unveröffentlichten Korrespondenzkarten, Ansichtskarten und Fotografien aus dem privaten Archiv von Werner Grand dokumentiert der Wiener Historiker und Fremdenführer Karl Zillinger das öffentliche Leben in der Donaumetropole von der Monarchie bis zur Zweiten Republik. Straßenszenen mit klassischen Wiener Typen, kaiserliche Umzüge, militärische Paraden und kirchliche Feiern spielen dabei ebenso eine Rolle wie gewerbliche Umzüge, politische Aufmärsche, kulturelle Jubiläen oder Faschingsumzüge und Blumenkorsos.
Dieses Buch entführt die Leser zu einem nostalgischen Spaziergang durch die lebendigen Straßen Wiens, wo seit jeher gerne flaniert, stolziert und gefeiert, aber auch demonstriert und agitiert wird. (Sutton Verlag)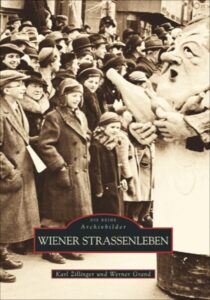 Rund 220 historische Fotografien fangen die Atmosphäre von kirchlichen Feiern, Faschingsumzügen und Jubiläen spürbar ein und wecken unzählige Erinnerungen.
"With about 220 picture postcards and photographs – most of them previously unpublished – from the private archives of Werner Grand, the Viennese historian and certified Austria Guide Karl Zillinger documents the public life in the Austrian capital between 1890 and 1960. Street scenes with typical Viennese people, imperial processions, military parades and religious festivities are depicted here as well as commercial parades, political marches, cultural jubilees or carnival processions and flower parades.
This book invites the readers to a nostalgic stroll through the animated streets of Vienna where people have always loved to saunter, strut and celebrate, but also to demonstrate and agitate."