Weihnachten ist ein Fest voller Emotionen, Erinnerungen, Traditionen und Sitten, das die Wiener Bevölkerung mit ihrem ganz eigenen Brauchtum pflegt. In einer Großstadt wie Wien kommt neben den lokalen Gebräuchen und Sitten auch den internationalen Einflüssen eine besondere Rolle zu. Weihnachtsbräuche, Rezepte, Spielsachen, Legenden, Märchen und Gedichte zeigen die europäische Dimension des Weihnachtsfestes in Wien, das sich seit dem Biedermeier vor 200 Jahren langsam so entwickelt hat, wie wir es heute kennen. Dabei spielten die Gebräuche und Gewohnheiten des Kaiserhauses, der adeligen Familien und der bürgerlichen Gesellschaft eine wesentliche Rolle.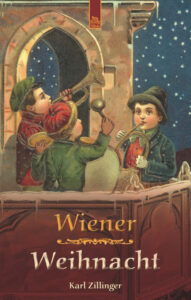 Tolles Buch, für alle Geschichtsbegeisterten, die gerne von Früher erfahren, aber auch Aktuelles interessiert. Gelungene Texte super illustriert! Macht Freude in diesem Buch zu blättern!
"Christmas is a holiday full of emotions, memories, traditions and customs which the Viennese population celebrates in its own characteristic way. In a big city like Vienna you find not only local customs and conventions, but also international influences. Christmas traditions, recipes, toys, legends, fairy tales and poems show the European dimension of Viennese Christmas which has slowly developed in the course of 200 years, from the festivities in the Biedermeier period to the holiday we know today. The traditions and habits of the imperial family, of the noble families and of bourgeois society played a key role in this evolution.
The Viennese historian and certified Austria Guide Karl Zillinger has hand-picked the most beautiful and famous Viennese advent and Christmas customs for this book which is richly illustrated with photos and picture postcards."